✭✭✭ Happy Valentine's to All our Members ✭✭✭
A romantic issue?  Mark's "Crossing the Line" series continues with 'The Heart-shaped Cluster' among other celestial delights. 
Don't forget the Society Meeting on Tuesday 6th February 2018.
Welcome to the WDAS monthly newsletter for February 2018: a digest of the month's latest contributions to our website.  Below you'll find Society News, Sky Notes and Crossing-the-Line, as well as coming events.
Society News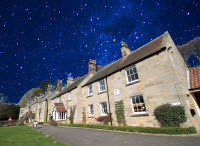 As part of the Dark Skies festival held throughout February half term across North Yorkshire and beyond, our society will be hosting a 'star party' at the Danby Moors Centre on February 17th (Saturday).
If skies are clear we will be observing some of the jewels of the winter sky under very dark skies, the moon being just a few days old.  The event is almost sold out; therefore scopes and transport are essential, so if you can make it along your assistance would be much appreciated. 
The event runs from 19:00-21:00h, so we shall be setting off around 18:10h to allow time to set up equipment.  Obviously it is February, and weather may dictate matters, suffice to say if it is not possible to observe outside, an indoor presentation will be given by Mark, and if dry the scaled solar system will be attempted.  Hopefully snow will absent, but if conditions are hazardous i suspect the event will be cancelled.  Talking of which...
RAF Fylingdales Event
The RAF Fylingdales event planned for January 18th, and organised by York A.S, the base, with assistance from us, had to be cancelled, victim of the wintry conditions.  The forecast spell of snow duly arrived with around 6 inches covering the moors.  Although the 18th itself was quite sunny, lying snow and plummeting evening temperatures would have made for hazardous surfaces on site as well as access roads.  Base officers therefore called it off 24hrs earlier, giving time for everyone involved to get the message.  It is hoped to reschedule the event for late February or sometime in March.  I don't know; snow in January, almost unheard of.  We shall be seeing snow in February next!  Anyone would think it's winter!
Just to remind everyone subscription renewals are now underway for the coming year.  Rates will be kept at 2017 levels, ie £12, with subsidised rates at £6.
You can bring subs along to the WDAS monthly meetings in December, January or February at the very latest.  Mark will also doing the rounds sometime over the festive holidays, so no pretending to be out!
If you cannot make the meetings Cheques are made payable to;- Whitby & District Astronomical Society, Please address to Mark Dawson - 33 laburnum Grove, Whitby.  YO21 1HZ.
Many thanks for your continued support.
There are just a few copies of night scenes 2018 remaining.  If you would like a copy it's just £4 to society members, £5.50 otherwise.
Sky Notes
In this month's Sky Notes:
Planetary Skylights
For much of February the dawn sky still hosts the majority of the naked eye planets, with Jupiter, Mars and Saturn all visible. 


Jupiter is the most conspicuous, a bright beacon (mag -2.1) due south around 06:00h.  If you can get chance to observe, dawn is usually a better time to do so, simply because atmospheric interference is normally less than during the evening.  Planetary detail is therefore easier to resolve and Jupiter is a particularly fine target for any size aperture.  The disk always offers up plenty of interest (belts, banding, great red spot etc ) and the dance of the Galilean moon is fascinating to follow.  The waning Moon passes nearby on the 8th. 

Trailing the 'king of planets' by some 10 degrees or so, look for the ochre hue of Mars (mag +1), which is of similar brightness and hue to nearby Antares; chief star in Scorpius, so the two should should not be mistaken.  Antares is located between Mars and the horizon.  Mars passes above Antares on the 10/11th. 
Telescopically Mars is still pretty small and featureless, but as we head towards the summer, and opposition its prominence will grow.  The Moon lies nearby Mars and Antares on the 9th


Further back in the SE and lower still, look for the pearly hue of Saturn (mag +0.5) above the SSE horizon.  Telescopically, Saturn is a real tonic to the eye, and with the rings wide open, now is a good opportunity to try and spot any subtle detail on the disk.  The moon lies nearby on the 11th. 
Then, between the 10th and 14th, look for Saturn emerging into the dawn sky, sliding up and right of Mercury.  The two are closest on the 13th with Saturn just above Mercury.  Good hunting.

For the first half of February, there is little planetary interest in the evening sky, Neptune (which requires a scope anyway) is lost in twilight by midmonth, which just leaves Uranus (mag 5.7) residing low in the SW toward the bottom of the 'V' asterism in Pisces, not far above the star Torcularis Septentrionalis. 

After midmonth matters start to improve however, when first Venus and then Mercury pop into the evening twilight sky.  Keep watch low to the WSW, where Venus will start to make its presence noticed.  On the 16th a very slim waxing moon, just over 20 hrs old resides upper left of Venus, which is then only a few degrees above the horizon.  Wait 25 minutes AFTER sunset and see if you can spot them. 
By the last few days of February keep an even keener eye out for elusive Mercury which climbs up into the sky lower right of Venus, overtaking it and gaining altitude as we head into March.  You will require a flat unobstructed view of the SW starting to observe approximately 30 minutes after sunset.  More on Mercury next month. 
Meteors

There is just one minor meteor shower this month, the Alpha Aurigids.  The peak (if you can call it that) falls between Feb 6-9th.  The Zenith Hourly Rate only reaches sporadic levels, barely half a dozen per hour, but if you do spot a meteor heading away from the direction of the zenith, (overhead) where the constellation of Auriga resides at this time of year, it is likely to be an Aurigid!
February 2018 Sky Charts
Looking North
Mid-February - 21:00h

Looking South
Mid-February - 21:00h

Looking East
Mid-February - 21:00h

Looking West
Mid-February - 21:00h

Looking North (morning)
Mid-February - 21:00h
Looking South (morning)
Mid-February - 21:00h

Looking East (morning)
Mid-February - 06:00h
Looking West (morning)
Mid-February - 06:00h

Northern Aspect
Mid-February - 06:00h
Southern Aspect
Mid-February - 06:00h
Additional Image Credits:
Planets and Comets where not otherwise mentioned: NASA
Sky Charts: Stellarium Software
Continuing the tour of stellar objects crossing the meridian line this month: a double-star in Canis Major, a unique object called "The Intergalactic Tramp" takes the place of our galaxy; we present the Eskimo nebula and the Heart-shaped cluster.
Star: h 3945 (145 Cma) in Canis Major the 'winter Alberio'
Telescope, Easy
Ask any amateur astronomer what his favourite colour double star is and 7 out of 10 will probably say Alberio in Cygnus.  Others might cite delta Andromedae (Almach).  There is however one double star that might challenge them all – h 3945 (145Cma) in Canis Major.  It is arguably the most colourful double star in the winter sky and has been nick-named the "Winter Albireo." 
h3945 (aka 145 Canis Majoris) was catalogued by John Herschel (William's son) in the early 1800s.  The magnitude 5.0 primary is accompanied by a 5.9 magnitude companion 26.8 arc-seconds away.  Their spectral types (K0 and F0) give rise to a stunning colour contrast, bright citrus orange and royal blue.  It is therefore a pity that h3945 doesn't get the plaudits it deserves from backyard astronomers, given that it is such a stunning site. 
Perhaps h3945's southerly location as seen from the UK, coupled with its brightness (or lack of it) is the reason.  It is not as bright or easily seen as Albireo or Almach, but if your observing site affords a clear view of the lower half of Canis Major, then it should definitely be on your observing list.  To locate 145 Cma, just trace a line from1 CMa past 2 CMa and extend it about 3 degrees beyond (see finder chart) 145 Cma crosses the meridian on the 8th just after 22:00h.
Globular Culster: NGC 2419 "The Intergalactic Tramp" or "Wanderer"
Telescope, Medium/Challenge
This unique object was discovered by William Herschel on December 31, 1788.  It lies at distance of almost 300,000 lightyears from the centre of our galaxy, making it one of the most distant known globular clusters, nearly twice the distance of the Large Magellanic Cloud. 
American astronomer Harlow Shapley nicknamed it "The Intergalactic Tramp" believing it to have possibly broken away from the Milky Way, however, recent observations indicate Shapley hypothesis was incorrect and NGC 2419 is still gravitationally bound to the Milky Way, just moving in a highly eccentric orbit.  At such a distance it's estimated it will take about 3 billion years to complete a single orbit around the centre of the galaxy.  Although rather faint, NGC 2419 is probably one of the largest and intrinsically brightest known globulars, estimated to contain well over a million stars across a spatial diameter of 400 light-years, comparable in brightness to the spectacular Omega Centauri.
NGC 2419 is positioned 7 degrees north and slightly east of Castor (α Gem - mag.  +1.58), About 4 arc minutes west of NGC 2419 is a mag.  +7.2 star with a double star of mag.  +7.9 a few more arc minutes further west.  NGC 2419 shines at magnitude +10.3 and has an apparent diameter of 5 arc minutes.  It's a somewhat challenging target especially under light polluted skies.  In good sky conditions it can be spotted with a small 100mm (4-inch) aperture, but a 150 mm (6-inch) scope is required to clearly reveal it as a small fuzzy object that's clearly non-stellar.  Scopes in excess of 18" are needed to resolve its brightest stars.  It crosses the meridian on the 14th at 22:00h. 
Nebula: The Eskimo Nebula (NGC 2392) or Clown face nebula
Small Telescope, Medium
A reflection nebula in the constellation Orion.  Again we shall steer clear of the obvious –M42 Orion nebula, and instead take a look at M78.  This was discovered by Pierre Méchain in 1780 and was included by Charles Messier in his catalogue.  M78 is the brightest diffuse reflection in the sky and lies in a group of nebulae that include NGC 2064, NGC 2067 and NGC 2071.  This group belongs to the Orion Molecular Cloud Complex located 1,600 light years distant from Earth.
M78 is easily found in small telescopes as a hazy patch which also involves two stars of 10th magnitude.  These two stars, HD 38563A and HD 38563B, are responsible for making the cloud of dust in M78 visible by reflecting their light The nebula is pretty easy to find as it is located only about 2 degrees north and 1.5 degrees east of Alnitak, the easternmost star of Orion's Belt.  Due south Jan 16th – 22:00h.
Open Cluster: M50 the 'heart shaped cluster'
Binoculars/Telescope, Easy
Messier 50 (M50), (NGC 2323) nicknamed the Heart-Shaped Cluster, is a large, appealing and relatively bright open cluster located in the constellation Monoceros.  Messier 50 was possibly discovered by the Italian astronomer and mathematician Giovanni Domenico Cassini before Charles Messier independently discovered and catalogued the cluster in April 1772
M50 has an apparent magnitude of 5.9, just about visible to the naked eye, appearing as a faint patch of nebulosity from dark sky locations.  It lies to the east of Orion, near the border between Monoceros and Canis Major. 
Through binoculars, M50 appears as a bright and relatively large patch of nebulosity with a few stars resolvable.  Small telescopes reveal the cluster's distinctive heart-shaped figure containing a sprinkling of 7th and 8th magnitude stars, set against a background haze.  Viewed at low to medium powers in 6-inch to 8-inch telescopes, at least 40 blue-white stars including several yellow giants and a red M-class giant, positioned 7 arc minutes south of the cluster's centre are visible.
Messier 50 has an angular diameter around 18 arc minutes, corresponding to a spatial diameter of 20 light years.  The dense core of the cluster spans 10 light years.  M50 has an estimated age of 78 million years; making it a very young cluster.  It lies at an approximate distance of 3,200 light years from Earth. 
Finding M50 is relatively easy.  Start by aiming your sights on Sirius, the brightest star in the night-time sky.  Located 9.5 degrees north-northeast of Sirius is M50, with θ CMa (mag.  +4.1) sandwiched halfway between them. 
M50 crosses the meridian on Feb 19th at 21:00h. 
Events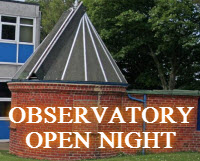 Observe the night sky with us at the Bruce Observatory, Whitby School.
Observing Nights are held weather permitting: check for a relatively clear sky before leaving home.  If in doubt, Mark can be reached on tel 01947 605516.
Date:
25 February, 2018 - 19:00
Address:
Bruce Observatory, Caedmon School Normandy Site (Whitby School)
YO21 1LA
Whitby
United Kingdom
GB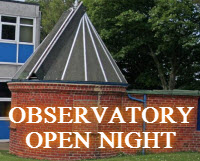 Observe the night sky with us at the Bruce Observatory, Whitby School.
Observing Nights are held weather permitting: check for a relatively clear sky before leaving home.  If in doubt, Mark can be reached on tel 01947 605516.
Date:
25 February, 2018 - 19:00
Address:
Bruce Observatory, Caedmon School Normandy Site (Whitby School)
YO21 1LA
Whitby
United Kingdom
GB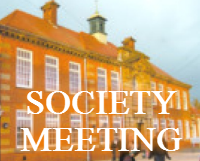 The sixth society meeting of the season, in the extravagantly named Caedmon College Normanby Site (you may know it as Whitby College or Whitby School), Room H1.
In Members' monthly meetings we usually take a tour of the night sky for the coming month using the Planetarium program, sometimes have other topics for discussion, etc.
Address:
Room H1, Caedmon College, Normanby Site (Whitby School)
YO21 1LA
Whitby
United Kingdom
GB