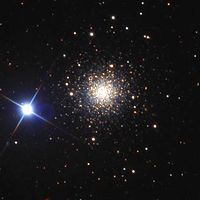 Continuing the tour of stellar objects crossing the meridian line this month: a double-star in Canis Major, a unique object called "The Intergalactic Tramp" takes the place of our galaxy; we present the Eskimo nebula and the Heart-shaped cluster.
Star - h 3945 (145 Cma) in Canis Major: the 'winter Alberio'.
NGC 2419: "The Intergalactic Tramp or Wanderer".  At almost 300k lightyears from the centre of our galaxy, this globular cluster is nearly twice as far as the Large Magellanic Cloud. 
Nebula: The Eskimo Nebula (NGC 2392) or Clown face nebula.  A disk of material containing a number of comet-shaped objects appearing to stream away from the nebula's central star.