✭✭✭ A Happy New Year to All our Members ✭✭✭
In this issue, Mark continues his new series of "Crossing the Line" series of objects: a star, a galaxy, a nebula and a cluster.  Don't forget the Society Meeting is on Tuesday 9th January 2018 (2nd Tuesday of Jan)!
Welcome to the WDAS monthly newsletter for January 2018: a digest of the month's latest contributions to our website.  Below you'll find Society News, Sky Notes and In-Focus articles printed in full.  There's also future events, and trailers for other articles which appear in full on the website - just a click away!
Society News
Our Christmas meal at the Hare and Hounds once again proved a great success with ten members making it to the banqueting table. 
The food was excellent, the wine flowed (favouring certain parts of the table more than others) and the company, most convivial.  Crackers, crackers it has to be said seem to get worse each year, a few didn't even contain a paper hat!  The slug balancing kit was quite innovative though (you may be able to spot it on one of the photo's)
Here's to 2018!
Just to remind everyone subscription renewals are now underway for the coming year.  Rates will be kept at 2017 levels, ie £12, with subsidised rates at £6.
You can bring subs along to the WDAS monthly meetings in December, January or February at the very latest.  Mark will also doing the rounds sometime over the festive holidays, so no pretending to be out!
If you cannot make the meetings Cheques are made payable to;- Whitby & District Astronomical Society, Please address to Mark Dawson - 33 laburnum Grove, Whitby.  YO21 1HZ.
Many thanks for your continued support.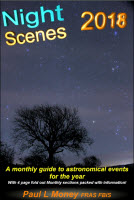 We are now taking orders for Night Scenes 2018 and only 10 copies are remaining even now, so if you want to reserve a copy please let Mark know. 
We don't have to remind you how indespensible this almanac is, so don't delay.  Price will be £4 to paid-up Members, non members £5.50p.
Cannot be certain how many copies will remain once all those spoken for have been dispatched, so don't delay,