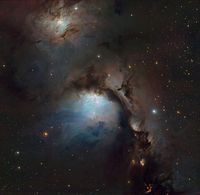 Continuing our new feature, we take a brief look at this month's selection of objects of particular interest crossing the meridian line.
Star: 119 Tauri (CE Tau) – The Ruby star in the constellation Taurus.
Cluster: The 37 cluster – it would have been very easy to go for the Pleiades, however I'd like to highlight an object you may not have heard of, yet it certainly deserves scrutiny.
Nebula: The nebula Messier 78 (or NGC 2068) is a reflection nebula in the constellation Orion.