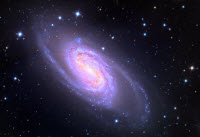 Continuing the tour of stellar objects crossing the meridian line this month: a double-star in the 'Sickle' of Leo, a field barred spiral galaxy also in Leo, knwon to its friends as "NGC 2903"; and the 'Ghost of Jupiter' planetary nebula in Hydra.
Star: Algieba: the 'The Lion's Mane'.
Galaxy: NGC 2903.  Discovered by William Herschel in 1784, this barred spiral galaxy lies in Leo near the top of the lion's head, to the right of the sickle asterism
Nebula: NGC 3242 - 'Ghost of Jupiter' nebula.