Welcome to the WDAS monthly newsletter for February 2017: a digest of the month's latest contributions to our website.  Below you'll find Society News, Sky Notes and In-Focus articles printed in full.  There's also future events, and trailers for other articles which appear in full on the website - just a click away!
On the website you'll also be able to comment on articles, and if you'd like to play an editorial role in creating new content, just let us know!
Cosmology Corner
Betelgeuse is a star constallation of Orion, which is well known for being very unstable and possibly exploding in a supanova at any point.  It's a star that is often studied by astronomers, but before they can understand how a star goes supanova, they need to understand what the steady state of a star really is.
You need two forces that have to be in equilibrium: gravity which pulls inwards and tries to squeeze the matter together; and pressure (radioactive and gas pressure) which pushes outwards.  While gravity wins, the star shrinks; but wile pressure wins the star diffuses into space.
In fact no star has a perfect equilibrium state, because they're highly dynamic objects.  Even our sun is continually trying to balance the gravity and pressure, and therefore its radius can change; although for the moment the effect of that is so small, Earth doesn't really feel a thing and life is okay with it.
Betelgeuse is a very special star to astronomers because it's a pulsating star.  These stars can vary very radically on very short timescales: years, months, days or even hours; depending on how pressure and gravity balance within the star.
So how does this star become unstable?  If the gas pressure in some layer is too low to balance the gravity, the layer is compressed which will cause the temperature and pressure in that layer to increase.  Eventually the pressure will overwhelm gravity and the star expands.  All the energy that couldn't get through is suddenly released.  Once this happens, the star starts to cool down, and the gas pressure drops to the point where gravity will take the lead.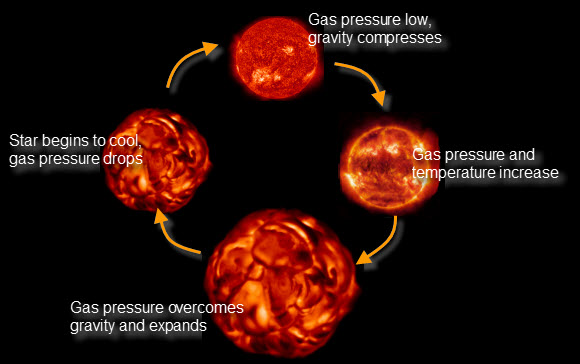 Betelgeuse's is classed as a "semi-regular variable star": its cycles vary in length over a long period.  In its final phase it will explode as a supanova.  It's very hard to predict exactly when this will happen,  but when it does, it may be as bright as a full moon for a while, before almost totally disappearing and ruining the constellation of Orion!
---

The video and material for this article was made by UK Astrophysicist Sebastian Pines, creator of the 'Astronomic' YouTube channel.  You can support Seb's work creating videos that help to teach the world about astronomy by sponsoring a dollar or two per month via his Patreon page.
Sky Notes
In this month's Sky Notes:
Planetary Skylights


Venus continues to dominate the evening sky – an unmistakeable beacon over in the SW.  The crescent moon lies close to Venus on the first day of the month making for a pleasing visual treat, especially as Mars is also in the vicinity, indeed Venus and Mars are closest in the sky the following evening.  Mars resembles an ochre star upper left of Venus.


To counterbalance the two naked eye evening planets, two naked planets can also be found in the dawn sky.  Conspicuous Jupiter is actually on view shortly before midnight at the start of the month and by 21:30h at the end, but for February the best observations of it would fall in the early morning hours.  Look for it low in the east during the early part of late night, and towards the south for dawn. 
Telescopically, Jupiter always has something to offer, even for smaller apertures.  Look for the banding on the disk and the attendant Galilean moons.  Currently Jupiter lies above the bright star Spica in Virgo, view on the 15/16th when they are joined by a waning crescent Moon.

Finally, Saturn is visible by 05:00h low to the SE.  It resembles a prominent pearly star some distance to the left of ruddy hued Antares in Scorpius.  Telescopically Saturn is a real joy to observe, with the rings well orientated.  The crescent moon forms the apex of a triangle with Saturn and Antares on the 20th.
Meteor Showers

There is just one minor meteor shower this month, the Alpha Aurigids. 
The peak (if you can call it that) falls between Feb 6-9th.  The Zenith Hourly Rate only reaches sporadic levels, barely half a dozen per hour, but if you do spot a meteor heading away from the direction of the zenith, (overhead) where the constellation of Auriga resides at this time of year, it is likely to be an Aurigid!
Comets
February could be a busy month with the possibility of a couple of periodic comets visible in binoculars. 
Having spent the early part of January low in the SW in Capricornus Comet 45P is on the move making its closest approach to Earth on Feb 11th, coming within 7.7 million miles and brightening again to a predicted magnitude of +6.  This is just on the edge of viewing with the naked eye.  Look for it near the constellation Hercules just before dawn.  See chart
The short periodic comet 2P Encke will once again returning.  Discovered by Pierre Mechain in 1786, the comet has a period of 3.3 years and will be seen in the northern hemisphere this year, prior to perihelion in mid March.  During February the comet brightens hopefully becoming a binocular object.  It is though dropping rapidly into the northern dusk and will be lost by early March.  The comet is the progenitor of the Taurid meteor shower.
February 2017 Sky Charts
Click each image to see a full-size Sky Chart:
Looking North
Mid-February - 21:00h

Looking South
Mid-February - 21:00h

Looking East
Mid-February - 21:00h

Looking West
Mid-February - 21:00h

 
 
 
 

Morning Looking North
Mid-February - 06:00h
Morning Looking South
Mid-February - 06:00h
Morning Looking East
Mid-February - 06:00h
Morning Looking West
Mid-February - 06:00h
Additional Image Credits:
Planets and Comets where not otherwise mentioned: NASA
Sky Charts: Stellarium Software
Misc
There are just a few copies of Night Scenes 2017 unclaimed, so if you would like a copy it's just £4 to society members, £5.50 otherwise.