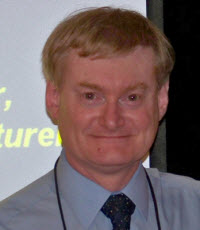 As you will know Paul Money had to cancel his talk on May 9th due to family illness. Paul sends his apologies and will reschedule as soon as he is able to. Fortunately Paul had given us a couple of days notice, allowing time for cancellation notices to be placed on the website and in the local media.
Mark went up to the college on the night to inform anyone who hadn't received the news, a beautiful sunny evening as it turned out. Only one person turned up and was disappointed. The time wasn't wasted however, Mark discussed with the caretaker, James, how to copse the trees on the railway embankment.
Stop Press – We have just heard from Paul who is back on the lecture circuit after his wife Lorraine's bout of illness. We have said to Paul that post summer is the most likely time, and have furnished him with 5 dates; last two Tuesdays in September as well as 3 dates in October. We shall inform you of the pencilled in date in July's notes.