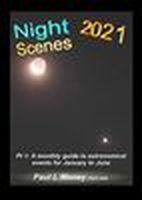 Paul Money's yearly sky almanac; Night Scenes, is only available as a PDF download or on Kindle e book format. Details of how to order can be found by clicking the link below. 
http://www.astrospace.co.uk/index.html
On doing so, wait for the Night Scenes 2021 details and click on the text. This will take to the options page, then simply follow the instructions re payment. The first instalment is £4 and covers the months up to June of 2021. There are over 50 pages laid out in a similar fashion to the printed version; ie plenty of charts, maps and images to compliment the text, all in colour as usual. In fact there are more pages per month than the normal printed version. If you have not already downloaded the first installment there is still time.