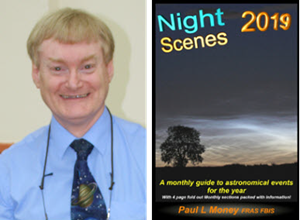 We will be putting in an order for 25 copies of Night Scenes 2019, however they are not expected out until late October/early November, so we may have to be a little patient. The price may also have increased, though perhaps not to the stated price on the Astrospace website, (Paul normally does us a deal).
If you want to reserve a copy please let Mark know. We don't have to remind you how indispensable Paul's colour almanac for the astronomical year ahead is, there is nothing better out there for any astronomer or casual stargazer; a great Christmas gift.
Here's a link to Paul's website, if you want to look at Paul's website.
Latest – Paul has received our order and hopefully we shall have the 25 copies by the November meeting.