The first meeting of the New Year saw two 'in-house' presentations from society members. Richard Randle gave an impressive account of a recent trip to Iceland last November. Had we managed to utilise the correct IT ports and leads Richard had intended, it may have been even more visually immersive. That said even viewed on screen in a PDF format the images were stunning. Richard even provided all present with a numbered 'crib sheet map', marrying location to image for geographical identication purposes. The coastal scenery was quite stunning with a number of locations doubling as the backdrop to scenes from various films and TV series. 
With long, dark nights, the prospect of witnessing the Aurora Borealis from Iceland was always going to be a likelyhood given right conditions, and Richard was certainly not disappointed with magical displays visible on several clear nights. Decidedly more dramatic than displays seen recently from Whitby!  Looking cafefully at the aurora images captured by Richard, the constellations of the northern autumnal sky can clearly be made out behind the shimmering display, in particular Lyra and Cygus and the head of Drcao. Iceland certainly looks a fabulous destination to visit, land of fire and ice and breathtaking Northern Lights. Wish we all could go!
Following Richard, society member Phil Richards gave a short presentation on a project he had been busy with during the various lockdowns. A keen solar observer, Phil had identified a small plot in the garden (Elaine said -'put it there' ) which would make a suitable solar observation location, all that was needed was the right 'shed' or 'sun room'. Ground works followed - levelling the area and then paving to make a solid foundation on which solar tardis could materialise. And a rather nice man (or woman) cave it is too! Phil has been utilising the society short focal length Helios refractor - on which he has done some repair and maintenance work, as well as his PST scope and 'really expensive' solar mount to make observations with. According to Phil' although not perfect - the set-up seems to work quite well. Since his talk Phil has upgraded the Helios with something better suited for 'neutral density' and projection solar viewing (see Equipment Bought article). All that is required now are sunspots!
Mark will be covering some of the highlights visible in the night sky until late summer of 2022. 
If you are new to the area and want to join the society, or have become interested in the night sky, and want to take 'one small step' into astronomy, please do come along, you will be very welcome. Meetings normally follow the format of a monthly review of the night sky with a look at upcoming celestial events, coupled with a talk or presentation on some particular aspect associated with space and astronomy. Meetings end by 21:15hrs. The venue is still Room H1 - Caedmon College - Normanby Campus (ie Whitby College) from 19:30hrs. All of the monthly meeting dates for this coming year apart from this coming one in January, which is on the 11th, fall on the first Tuesday of each month. Hope to see you. 
Sunday Open Nights - Bruce Observatory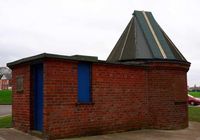 Sunday evening open nights at the Bruce Observatory are now up and running once again. These on paper are every Sunday (barring one or two exceptions) until well into April. They are weather dependant, so if you are intending in coming along from further afield, please contact Mark on the day. The weather can be very different inland, or further up or down the coast, than here in Whitby. The observatory is also located at the Normanby Campus, at the bottom of the drive (the conical domed building). Events in December start from 19:30hrs and normally last a couple of hours, depending on conditions. Let's hope for some clear skies, so far they have been scarce on Sunday evening!