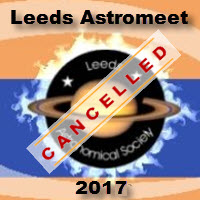 Those of you looking forward to the Leeds Astromeet this year will sadly have to keep looking, cos it's not on, cancelled, postponed, deceased?..The comment on the Leeds website reads as follows:
Leeds Astronomical Society has decided to cancel this year's Astromeet conference at Leeds University.  The committee took this decision reluctantly, aware that there will be much disappointment, but after careful consideration.  The reasons for cancellation include: financial constraints related to funding; rising costs at the current venue, and a number of other administrative concerns.  Hopefully this isn't a binding decision - and should an Astromeet be proposed for 2018, details will appear on the New Year website.
Let's hope it's just a glitch this year, but it would not be a surprise if Astromeet became a biannual event.