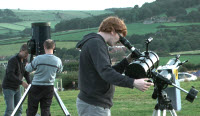 Our annual visit to Hook's House Fm will be slightly earlier this year – Saturday 31st August 2019.
It will be a no-Moon period and if skies are clear it should be ideal for deep sky observations.  We shall of course be observing both Jupiter and Saturn on show to the south and carrying out a sky tour.  We anticipate the campsite will be busy, so if you make along with a scope all the better.  We hope to be setting up equipment for shortly after 20:00h with a view to a 20:30h start.
If you already have a scope and know the location of Hook's House Campsite (just off the B1447 down in to Robin Hood's Bay) we shall see you there.  If you have transport but no equipment, meet at Mark's for 19:45h.  If conditions are favourable it should be an excellent evening.