Early weather forecasts for the Hooks house event initially looked rather unfavourable, however, predicted heavy showers failed to materialise and by late afternoon it looked more likely skies would clear and so it proved. 
It was not though the balmy conditions we had enjoyed just a week earlier for the bank holiday, the northern air mass brought with it a decided chill, the kind that a warm padded coat only alleviated.
Having already dropped off a couple of telescopes at Hook's house during the afternoon, there was enough additional transport on hand in the evening (Barbara and Mark and Lee) to ferry over the remaining instruments and personnel to the campsite, where we were joined by Paul Wood and his daughter as well as Paul Cass.
Having set up the equipment on the adjacent field to the main campsite, the six scopes deployed, including the LX 200 complete with new hand controller, keith's GOTO dobsonian, the two 'non goto' dobs already left on site, together with John L's scope, Lee's reflector and Paul woods scope, all made for an impressive, array.  Certainly enough aperture to fully exploit the transparent skies.  The campsite was almost full, and once word filtered around the field, a decent sized crowd began to gather behind the instruments.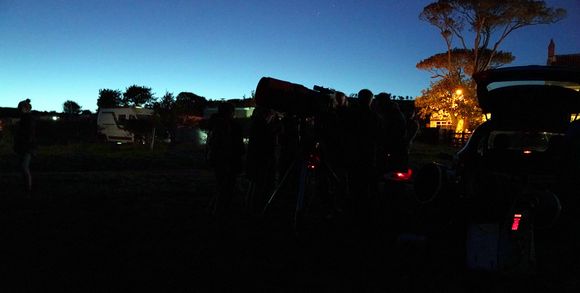 The two main visible planets; Saturn and Jupiter, were naturally our first targets, both showing detail not apparent from the West Cliff.  It came as no surprise that people were bowled over by the vista, after all, who tires of the rings of Saturn?  One major difference from the previous week, when the observing location had been from the west cliff, was the superb appearance of deep sky objects.  Little scrutiny was required through the eyepiece to appreciate the selected deep sky wonders.  The Ring Nebula, Dumbbell, M13, M31, the double cluster, M11, M92, M5, M15, et al, all were so much brighter.  Perhaps best of all was the unmistakable soft glow of the Milky Way, which could be traced from horizon to horizon with the , dark the northern rift in Cygnus, clearly evident.
Several laser point tours were conducted, with constellation recognition made so much easier by the dark conditions.  By 22:15h, some two hours after the first views of Jupiter, the chill finally began to take its toll thinning out the crowd to the die-hards and late-comers.  It had been a rewarding and satisfying evening much appreciated by the campers.  Here's looking forward to next year.