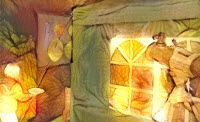 Andy L, Keith and Mark hosted a star party for a charity function organised by Maggie Keating of Ferndene house, Fylingthorpe.  The event was to raise funds for the Brighter Futures charity – helping educate children in parts of Africa.
A 'dancing light' placard, placed outside the house greeted us as we drew up.  With no direct access to the rear garden, all the equipment had to be transported through the house.  A gazebo had been erected within the garden itself, which we used to house all the IT and projection equipment, whilst the screen was erected outside.
With skies clouding over only Mark's 10" scope was used, we did however get a brief glimpse of Mars low down, before it too disappeared behind the clouds.  Plan B was always going to be used – so the gathered ensemble, all seated undercover, were treated to one of Mark's power point presentations.  Even the sharp rain showers failed to dampen spirits, although it did dampen Andy and Keith who insisted on staying out of our cosy tent.  Homemade soup, bread, and cake sustained us through our journey to the edge of the universe.
Everyone seemed genuinely interested and there were numerous questions.  Show over, we packed up and retired indoors to partake in a little more conversation....and a bit more cake, before bidding farewell to our most welcoming host.  A most enjoyable evening and £80 raised to boot.  Maggie has already suggested another event along similar lines for next year.