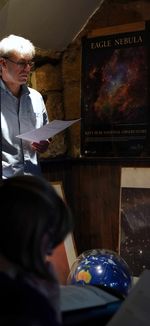 As you may know this was originally intended to be a two evening event, however as interest was more forthcoming for just the Saturday, Colin and Vicky dropped the Friday evening from the program.  Friday, as it transpired was a clear night, great for observing.  Saturday was 'orrid (at least it wasn't windy), and although the BBC forecast still offered some optimism, the Met office one did not.  The Met office was correct and any lingering hopes of some clear breaks were quickly extinguished by the rain.
Having already made one journey up to Ainthorpe during Saturday morning to drop off a couple of Dobsonians (insurance policy...just in case), as well as the inflatables and screen, Mark and Keith, along with the remainder of the necessary paraphernalia, made their way up to the Fox & Hounds for 16:30h in light and intermittent precipitation (probably the high watermark of 'reasonable' weather that night).
After being warmly greeted by Colin, Vicky and staff on arrival, Keith and Mark set about making the games lounge fit for the background of a 'Sky at Night' episode.  Actually, Colin and the staff had already inflated the planets, which was a welcome surprise and saved a considerable amount of time.  The poster boards, a Tal refractor, even meteorite samples, all added to the look of an astronomical themed event.  Soft drinks and biscuits were on hand, although a number of 'harder beverages' also appeared.
Around 14 people had initially booked for the evening (which included dinner) and although there were a couple of cancellations (due to the weather I suspect), proceedings were delayed only slightly.  Following introductions and with a captive audience, Mark spent the first hour of the indoor show using the SN8 program, touring the night sky as it should have appeared that evening, before going on to highlight some forthcoming astronomical events.
At around 18:30h we adjourned to the restaurant room for dinner, having made our menu choices earlier.  The cuisine and service was excellent, and with the room to ourselves, we chatted about all kinds astronomical topics.  It was agreed there was little chance of performing demonstrations outside, so we returned to the games room suitably stuffed refreshed for part two of the evening.  This was composed of some Earth-Moon scale demo's, followed by some more on a grander theme.  The final part of the evening was spent looking at various types of deep sky objects, taking us to 22:00h.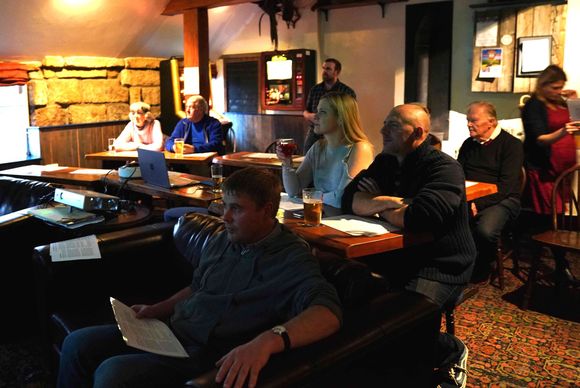 Despite the rain and general grotty conditions, people hopefully took something away from the evening.  We certainly enjoyed the night, and are set to return in late February or early March for the Dark Sky event Colin and Vicky have signed up to with the national parks.  Hopefully then, the weather will see fit to facilitate some outdoor observing this venture Colin and Vicky are seeking to promote long term deserves.
Many thanks for the hospitality shown by Colin and Vicky and the Fox and Hounds staff, a venue which we thought was quite impressive and are eager to see just as much as Colin and Vicky are, how much potential this observing site offers, not only in terms of viewing, but public comfort.