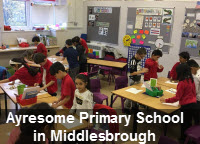 Our association with Ayresome Primary School & Lego Innovation Studio will be continued again this year after been contacted by Elizabeth Labelle; assistant Head Teacher (phase3). 
This year's group of pupils (around 30 or so) will be stopping at the Whitby Youth Hostel from April 8th - 12th and we shall be hosting a star party event for them on either the 9th, 10th, or 11th, whichever evening according to the forecast looks best.  We have hosted these events for the last three years, and Libby always says how much the pupils get from the event. 
Start time will be around 20:15h on the Abbey Visitor Centre grass forecourt area.