For the second year in succession our Star party event planned for visiting pupils of Ayresome Primary school in Middlesbrough, went ahead under crystal clear skies.  (Shock horror, yes, it is hard to believe) Requested by Libby Lavelle, Assistant Head Teacher, after last year's successful evening which delighted and enthused the pupils, this year's two dozen strong party of 10 and 11 year olds were already excited by the prospect of something similar.
With the party staying at Whitby Youth Hostel, the event was again held on the grassed outer approach courtyard area adjacent to the drive way along to the hostel.  Mark, Keith and Lee were joined by Andy L this year, so 4 scopes were in operation.
Before observing commenced, Mark and Andy demonstrated the scale solar system along the drive.  Planned use of the new inflatable planets sourced by Andi Ye had to be shelved due to the nagging breeze, visions of Saturn disappearing over the Abbey came to mind.  Apart from the odd passing car interrupting proceedings, the bouncy ball and glow stones approach proved more than satisfactory in purveying the enormity of it all.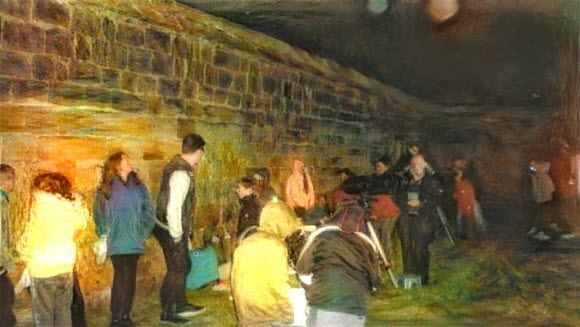 Sheltered somewhat by the proximity of the perimeter wall, the location was ideal for viewing Jupiter, visible across in the SE.  The planets 'belts' and Galilean moons, enthralling all who peered through the eyepiece.  Mark conducted a laser point tour of the spring sky, pointing out the brighter stars and constellations, which we learned from the pupils, are mostly obscured from Middlesbrough due to light pollution, so for many it was their first meaningful inspection of the night sky.
Moonrise (just a couple of days beyond full) certainly caused a stir, although the bright moonlight did scupper attempts to show a few deep sky objects.  We also had to move 'camp' a little in order to show the moon through the scopes.  The reaction was a mixture of stunned astonishment and excited jubilation (and that was just Andy!).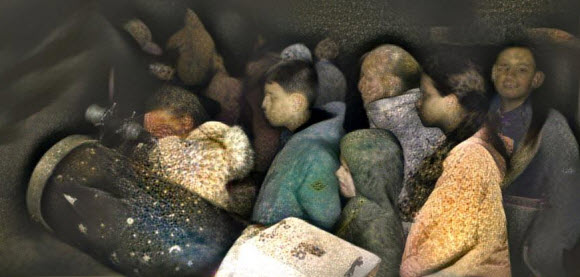 By 22:30h, long passed the expected time for supper, proceedings finally came to an halt.  A most rewarding night for all and one that, weather permitting, will be repeated next year.