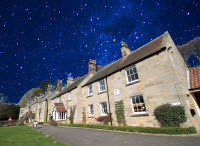 On Saturday March 2nd we will be in action again at the Danby Moors Centre for their Dark Sky half term event.
This is their 'flagship event', and if skies are clear we shall definitely require assistance from members regarding scopes/transport, similar to the event held last October. 
Hopefully skies will be clear this time round, if so, we shall be observing some of the jewels of the winter sky.  The event runs from 19:00h-21:00hpm, so we shall have to set off shortly after 6pm to allow time to set up equipment etc if conditions look promising.
These National Park events for the North Yorkshire area have been highlighted in the Astronomy Now Magazine extensively across the area, so it is likely to be sold out (If previous star party nights are anything to go by) with around 60-80 people present. 
Although still a week away as this is written, the weather does look quite promising, so i hope it will be a good evening.  We shall be meeting at Mark's around for 17:55h.