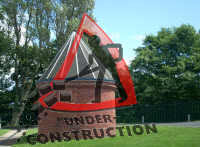 Essential work on the Bruce Observatory is once again required in order to maintain the integrity of the building itself. 
The telescope and mount itself is in pretty good working order (maybe a good clean required) but the shutters, guttering, south side wall, dome felting and exterior laths all require attention. 
Having been in contact with the college, a loose agreement may have been agreed whereby they would be willing (in the main) to provide funding for materials, as long as we carry out the work. 
It is hoped to fully assess what is actually required over the Christmas period, hopefully reporting back at the next meeting in January.