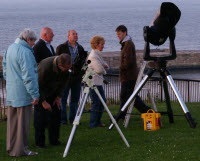 A public Star Party, weather permitting, near the Captain Cook monument on West Cliff  (setting-up from 20:45h).  Lunar and Planetary observations.
Solar and planetary observations.
Mark notes:
Various parties may well be interested in this date, nothing is set in stone, but there are various options. 
Mark will email members, if all goes to plan, otherwise it will be the West Cliff venue as usual.
Location:
Captain Cook Headland
near YO21 3HA
Whitby
United Kingdom
54° 29' 25.7208" N, 0° 36' 58.284" W
GB