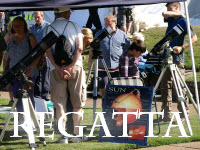 Not long before we hit the peak season (we hope) as regards star parties.
The Regatta events follow the usual route – afternoon solar viewing, on the Saturday (19th) and Sunday (20th), with evening star parties on both dates. The location of the solar viewing i assume will be as last year ie – the grassy area adjacent to the small Go carts and Royal Crescent on the West Cliff. Time wise 2 – 16:30pm. The Star parties will be held on the pitch and put area, above the archery green – as per last year.  Parking is adjacent to this area - down the side of pitch and put, accessed over the parking area behind the bowling green. It is actually quite convenient. We shall be setting up by 20:30h.  If the weather is good and you can make it, assistance would be most welcome.
As for the rest of August – we have Folk week and the bank holiday events to look forward to.  August dates seem to be very susceptible to the weather, so i have put quite a few dates down. Expect half to be called off.  Again if it is a fine night on a scheduled date and you can make it please do come along.