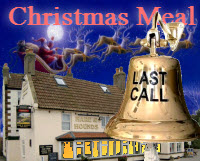 If you still wish to come along to the Christmas Meal (and we believe there are a few who do) please let Mark know before December 4th, along with your menu choices. 
As of going to press there are 10 confirmed for the Christmas meal: Andi, Andy L, Ian D, John T and Sue, Mark, Keith, Phil, Rosemary and Victor (all with menu choices). 
The date is Dec 12th for around 7:15pm.  It has been provisionally booked for up to fifteen.  We shall sort out transport ideas at the December monthly meeting.