We are going back to Moon... but this time its for good...So said senior NASA officials, after the successful launch of the SLS rocket from launch pad 39B in the early morning hours of November 16th, two days after it's slated rescheduled, rescheduled launch date. The launch was flawless, sending Artemis on course to the Moon.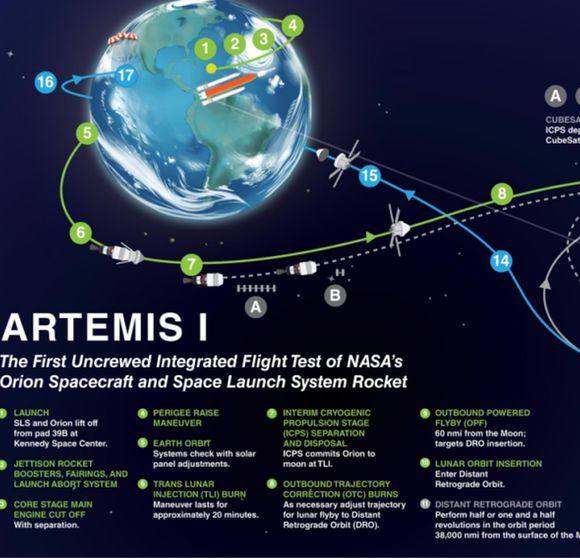 Orion took a long and looping trip to the Moon, arriving in a distant retrograde orbit on Friday Nov 25th. 
The Orion spacecraft completed its first close flyby of the Moon on November 21st, skimming just 130 km (81.1 miles) above the lunar far surface during its closest approach. 
NASA confirmed that the Orion capsule had reached the midpoint of its uncrewed mission around the Moon, shattering the record for the furthest distance a spacecraft designed to carry humans has reached, around 432,000km (270,000miles) from Earth. Officials stated that the spacecraft was in a healthy condition as it continued its journey in deep retrograde orbit, a highly stable orbit where little fuel is required and that everything was going very smoothly. A planned orbital maintenance burn was deemed not necessary because of Orion's already precise trajectory in distant retrograde orbit. To date, flight controllers have accomplished or are in the process of completing 37.5% of the test objectives associated with the mission, with many remaining objectives set to be evaluated during Earth re-entry, descent, splashdown, and recovery. 
If all goes well, Orion will break out of the distant retrograde orbit with a rocket firing on Thursday Dec 1st, setting up a close lunar flyby on Monday Dec 5th. That manoeuvre, in turn, will fling the spacecraft back toward Earth for a high-speed re-entry and splashdown in the Pacific Ocean west of San Diego on December 11. NASA plans to launch astronauts around the Moon aboard Artemis 2 in 2024, before Artemis 3 mission will land astronauts near the lunar South Pole in 2025/2026.
Keep abreast of the media for reports and live broadcasts. Visit https://www.nasa.gov/artemis-1 
Images- courtesy of NASA