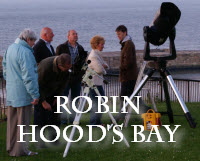 Certainly one of the observing highlights on the WDAS calendar, our annual pilgramage to Hook's House Farm: on 22nd August and 5th September.
Hook's House is an excellent dark site location situated on the B1447 overlooking Robin Hood's Bay. If the weather is fine the campsite should be full and as long as skies are clear, or clear enough, we should have a cracking evening.
A map of the location can be found on the web site.
Date:
1 September, 2017 - 20:00
Location:
Hooks House Farm
YO22 4PE
Robin Hood's Bay
United Kingdom
54° 25' 51.3552" N, 0° 34' 36.3576" W
GB