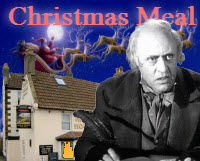 A while after the Christmas Meal at the Hare & Hounds, Mark received found this write-up by a curmudgeonly old Scrooge, lying below his letter-box...
 Baa.. Humbug, all this festive cheer and good will to all men; fiddle sticks I say!
    Indeed just the other week I had the great displeasure of attending a most disagreeable gathering at the Hare and Hounds public house. Far from the anticipated disaster I was expecting, not only did the 'pick up' arrangements go to plan, the whole operation ran like clockwork, with everyone being ferried up to the establishment on time and without mishap. Then, the exchange of Christmas cards, which I was led to believe would be an embarrassing fiasco, put our good Queen's mailing service to shame. Everyone was in annoyingly good spirits, which as the wine bottles emptied became ever more unbearable. Instead of the substandard, small and putrid seasonal offerings expected, the food was grievously satisfying, copious and delicious with the establishments hosts sickeningly cheerful.. Baa humbug. At least the wretched waifs and strays of the village would not be dining out on any leftovers.... there weren't any.... hahaha... cough, cough.
    A surprise presentation to one of the society members... err Mark somebody or other, the name escapes me... seemed to create tremendous and uncalled for hilarity. Contained within a small sparkly box was a monocle... yes a monocle would you believe, I don't know the poor fellow spent most of the evening contorting his face trying to keep little blighter in... difficult beasties you know, I have one, takes years of practise. I do believe the fellow was genuinely touched by the gesture though.
    Well I have very little else to say on the evenings affairs, and no it wasn't because of the drink.... devil's liqueur I say, water and god's own turnip would be my choice, suffice to say most of the others disagreed in that sentiment. But I am not one to gossip. Eventually the merriment and good tidings concluded... and not before time I say, such cosy surroundings are far too conducive I deem for serious society matters.  Why, I'll wager that if matters continue like this... well, I can foresee a similar intolerance occurring this time next year... or it is this year? .. I don't know, my water has been spiked by the devil.  Baa Humbug!
Phase Transition
Party Photos